Ok, my full Pimax 8K vs 5K+ review and in depth analysis report video is now live!

Sorry for the delay but it took almost 5 hours to export the video (22G), 20 minutes to upload and another 2 hours for YouTube to process it…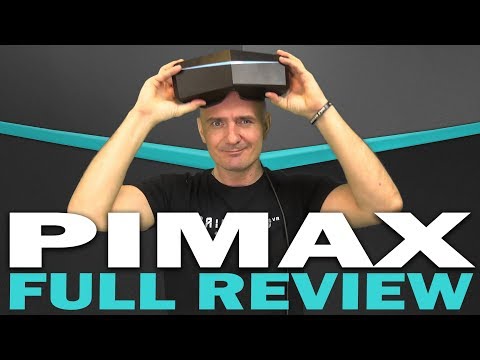 This will definitely be the most in-depth testing analysis found online. During this full Pimax 8K and 5K+ review, you will get everything from unboxing, in-depth Pimax functionality information, testing results, Pimax 8K and 5K+ benchmarks, through the lens photos and videos, comparisons and much more!
This definitely the most extensive and advanced video I have ever made, and I really feel that I have put my entire heart into this. Not because I'm a small YouTuber, but because I really enjoy this community, I really like Pimax as a VR device and I see the huge potential of it. And also, because I'm a total VR geek who loves to go in-deep on everything

The whole review took me more than 180 hours to make during the past almost 2 weeks, and its based on my 3+ months of testing the Pimax 8K m1 headset during the beta testing phase, but also 2 weeks of intense Pimax 8K m2 vs Pimax 5K+ testings, comparisons and conclusions.
Do you appreciate my work?
Please support me on Patreon. 2 bucks a month is actually a lot to me!
NOTE: All my Patreons will get ALL my original through-the-lens photos and videos to analyze! I will post all files in a big ZIP file later tonight and publish it on my Patreon

I know it may sounds wrong only giving it to Patreons for now, but please understand I spent several days with 16-18 hours a day just taking those through the lens videos and comparisons. Eventually, I will release the files for everyone, but for now I would appreciate if they stayed among Patreons only. Thanks for understanding.
Please be aware that ALL my conclusions and opinions are my own here. I have NOT even discussed anything about the Pimax headsets and their performance with neither Sebastian or Thomas, since we were in Berlin. I have my conclusion and you have yours, but I'm sure my video is in-depth enought to answer 95% of your questions and give you your own "whole picture" when it's time to decide between Pimax 8K or 5K+. I really hope all the information, footage, my knowledge and also visual proof will give you all the help you need today with your 8K vs 5K+ decision!
Also I will do a Live Stream tomorrow night on my channel, most likely around 8pm. If you have any questions please join and I promise I can spend hours tomorrow diuscussing with you

Now, I just need to sleep. I never slept at all last night, and the last 2 weeks I have been sleeping for 3-4 hours per night because of all stress with this deadline

so I might need a 10-hour sessions now, but I promise to start answering your questions tomorrow again!
And again, if you really appreciate my effort, please consider supporting me on Patreon with 2 bucks a month or whatever - and remember I will upload those through the lens images before I go to sleep tonight.
Also, do NOT miss the end of the video where I have a personal message to you all, including the Pimax team! :slight_smile:
Thank you very much guys.
Much Love
Martin, SweViver
Full Time line (also included in youtube description):
00:00 Intro
02:03 In depth Unboxing & detailed look
08:22 Testing other face pad brands
09:37 The cable + extension
11:11 Using Laptop
13:48 Comfort
14:35 Weight comparison & results
16:05 Using glasses
17:41 Testing both USB C ports
18:54 Software Installation
20:27 Initial Setup
21:45 PiTool walkthrough part 1
23:30 Introcution to FOV Modes & render quality
25:22 PiTool My Games-tab & Oculus Home games
27:47 Audio & Microphone test
31:07 IPD Adjustment & range
32:58 Buttons
33:57 Sweating & heat
35:38 Tracking with Lighthouses
38:10 Tracking WITHOUT Lighthouses
39:18 Vive Tracker support
40:15 Brainwarp?
42:56 LCD Panel introduction & comparison
44:51 LCD Black Levels
48:53 Upcoming LCD Brightness adjuster
49:53 LCD Brightness + test results
52:51 LCD colors & contrast
53:39 Glare & Godrays Test and comparison
54:58 Image Abnormalities: MURA, Backlight bleed, COMA, distortion & warping, ghosting, black smear, chromatic aberration
57:47 FOV talk & correct values
59:28 FOV practical example
01:05:25 FOV Distortion and flaws
01:08:18 Binocular Overlap
01:10:24 Sweet Spot
01:12:16 Refresh Rate
01:15:11 Resolution, SDE and Pixel Matrix In-depth + through-the-lens images & comparisons
01:17:13 Much More through-the-lens images & comparisons + in-depth talk
01:29:33 LCD Panel utilization + open up lenses
01:33:12 Watching video & movies + 180/360 3D movies + refreshrate talk
01:37:42 Virtual Desktop Work
01:39:07 Leap Motion Hand Tracking Unit test and impressions
01:40:35 Performance In-Depth Analysis
01:46:12 PiTool In-depth and relation to Steam VR
01:54:24 Game Compatibility in detail
02:00:22 VR Gaming Intro - about benchmarks and my own recommendations for 22 games!
02:02:00 Assetto Corsa
02:04:17 Aerofly FS2 Flight Simulator
02:05:09 Skyrim VR
02:06:36 DiRT Rally
02:07:56 Onward
02:09:19 Hellblade
02:10:35 Project Cars 2 (and Project Cars 1)
02:12:41 Elite Dangerous
02:14:13 IL-2 Sturmovik
02:16:02 Lucky's Tale
02:16:49 Lone Echo
02:18:18 Fallout 4 VR
02:19:17 iRacing
02:20:57 Alien Isolation VR
02:22:04 Subnautica
02:23:18 DCS World 2.5
02:24:57 Stand Out
02:26:11 rFactor2 VR
02:27:05 The Forest VR
02:28:00 Pavlov
02:29:15 RaceRoom Racing Experience
02:30:18 X-Plane 11 VR
02:31:38 8K vs 5K+ head to head comparison (general info)
02:32:18 8K vs 5K+ own conclusions
02:38:24 8K vs 5K+ - My choice? And why!
02:42:54 Outro, personal thanks + some footage from Pimax backer meetup