Hello guys ,
As my RTX gfx card need RMA I found couple hours to prepare one more sim setup guide.
Setup should work for ppl with RTX 2080/ 2080 TI & GTX 1080Ti cards and modern i7 processor.
As usually my goal was to get stable fps ( 72 this time as 90 is not possible with current gfx cards ) and very sharp picture with high/medium visual settings with postprocesing on and MSAA set at medium
This game on default settings is very blurry and demanding even for RTX card so we have to do a lots of modifications.
My sugestion for 1080ti OC/RTX 2080 OC
PiTool: 1.25
Steam VR Render: 30 %
72 hz mode ,
no smoothness - I see disturbing ghosting when is on
Parallel projection set on
Brightness: high
Fixed Fovated Rendering - dosn't work at the moment
area mask set on
RTX 2080 Ti OC players
PiTool: 1.25
Steam VR Render: 40 %
other settings like for 1080ti
Next please copy my pastebin to graphicsconfigopenvrdx11.xml and replace all line there for my config.
You will find this file in c://users/yourname/documents/Project CARS 2
3 last lines gives you distance sharpness, game looks a way better with sharpening xml code
To give you an idea how sharpening works I pasted 2 screenshots from small area of the game mirror
As you can see, it sharpens the whole picture also the in car dash, sharpening between 0.8 ~ 1.2 seems works good for pimax. Offset bias and clamp work like a filter on pixels shimmering done by "sharpening"

next part, set your post-processing effects as you like, my suggestion here: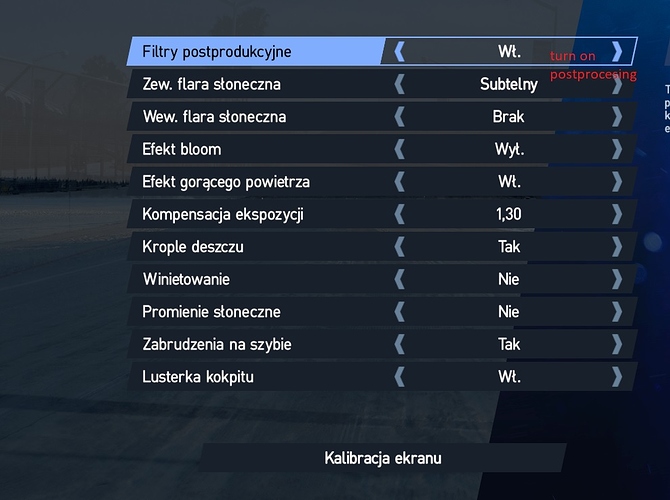 sorry for polish lang. don't know how to change that in this game - wl = on , wyl = off, tak = yes, nie= no
Enjoy your Pimax ride

Edit: In game Supersampling 1.0 ( default)