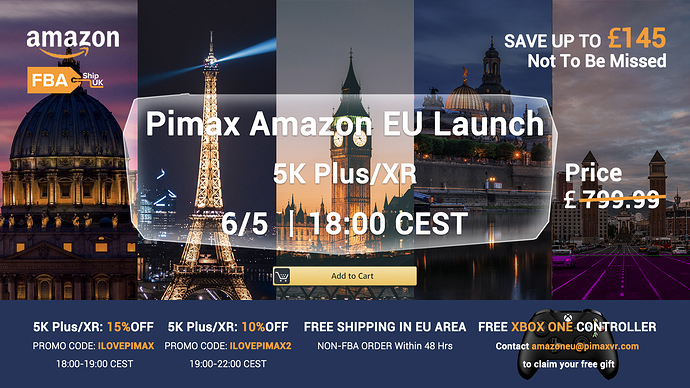 Hi VR Futurists in EU!
We are happy to announce that Pimax will launch in EU on Amazon with our Pimax 5K+ and Pimax XR VR headsets!
We have received great support from you guys and we really appreciate it. To express our gratitude, we would like to give a big discount off.
First come, first served:
2019-06-05 18:00-19:00 CEST; 5K +/XR: 15%OFF; PROMO CODE: ILOVEPIMAX

2019-06-05 19:00-22:00 CEST; 5K +/XR: 10%OFF; PROMO CODE: ILOVEPIMAX2

FREE SHIPPING IN EU AREA; NON-FBA ORDER Within 48 Hrs

FREE XBOX ONE CONTROLLER
Terms & Conditions are as follows:
romotion Period:6/05 2019 18:00 CEST-6/06 2019 18:00 CEST
In order to claim your free Xbox One Controller, Pls send your Amazon order number and your consignee information to below email address: amazoneu@pimaxvr.com
We will ship you your Gift up to 30 days after receiving your email, it will no longer qualify for the Bonus gift if the purchase is canceled for any reason
Best regards,
Pimax VR E-commerce Team
All Link on Amazon
Amazon.UK
https://www.amazon.co.uk/s?k=vr+headset&me=A38W726L30ZSFQ&ref=nb_sb_noss
5K +: https://www.amazon.de/dp/B07RW5V544
5K XR: https://www.amazon.de/dp/B07S9X3JH2
5K +: https://www.amazon.fr/dp/B07RW5V544
5K XR: https://www.amazon.fr/dp/B07S9X3JH2
Amazon.ES
5K +: https://www.amazon.es/dp/B07RW5V544
5K XR: https://www.amazon.es/dp/B07S9X3JH2
Amazon.IT
5K +: https://www.amazon.it/dp/B07RW5V544
5K XR: https://www.amazon.it/dp/B07S9X3JH2