Dear Pimax community,
here is my pure and unfiltered opinion about how Pimax deals with backers regarding the Pimax 8K and 5K Plus decision: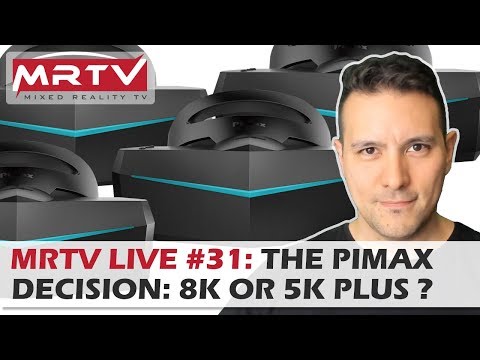 It is worth it to watch. But if you are not into watching it, here a summary:
Pimax communication is terrible
tough decision for backers between 8K or 5K Plus
some people just joined the Kickstarter for two 4k screens without SDE - now feel forced to change to 5K Plus because it just seems to be the overall better headset
all information that backers have come from 3 YouTubers - Why not from Pimax???
it is not Youtubers' job to communicate the differences, it is Pimax' job to let ppl know ALL the details about the headsets
Pimax should tell backers about exact panel sizes of all headsets (8k, 5k, 5k Plus)
Pimax should tell backers about panel technology of all headsets
Pimax should tell backers in a detailed manner if the 8K will get better at one point with more GPU power or not (and not just bs, the real deal)
I tried hard to get information out of them, but would only get bs answers
Pimax needs to be more transparent and stop with bs
Backers deserve and demand more information for this decision
Pimax has great devices but still have a big chance to fail miserably if they don't up their communication game NOW
why do they let the YouTubers do the work, THEY must do it instead
Pimax should not put backers into this bad situation, they went through enough (waiting time, broken promises (1070), etc)
right thing to do would be: allow all 8K backers to upgrade to Pimax 8K X for free
send them 8K or 5K Plus first, then once 8K X is on the market, allow them to exchange devices if they still want
for current 8K X backers, give them an additional accessory coupon to make up for the difference they paid over the 8K.
Would be glad to get your opinion about all of that.
Sincerely, Sebastian