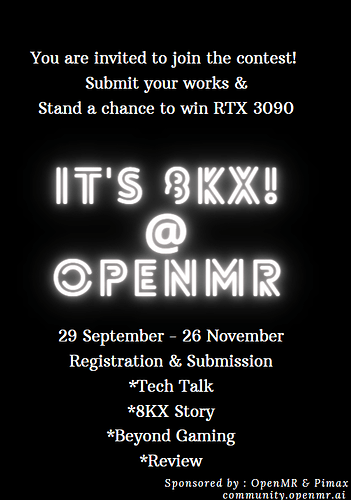 Hello community,
Are you ready for our autumn event- 8KX!@OpenMR ?
You have 4 topics to choose one from to write about (with visual support).
Please enter the event by register and submit your work prior to 26 November 2020.
A poll to vote the award winners out will be available from 11/27 - 12/01.
The award winners can expect special awards sent with love

Keep reading for eligibility and more details.
Eligibility: All Pimax 8KX owners
Schedule:
• 9/29-11/26 (5PM SH Time): Event registration
• 9/29-11/26 (5PM SH Time): Work submission
• 11/27-12/01: Poll
• 12/02-12/04: Award recipient candidate list announcement
• 12/05: Award recipient final list announcement
• 12/06-12/08: Award recipient shipping information confirmation
• 12/15: Award dispatch
Topics:
TOPIC 1. 8KX Product Review
Un-boxing/ PC setup/ HMD display/ comfort/ build/ tracking/ side-to-side comparison/ pros& cons etc.
TOPIC 2. Me and my 8KX Story
Tell your stories with 8KX and VR in general.
TOPIC 3. 8KX Tech Talk
Do you have useful 8KX tweaks to share? Or anything 8KX-and-tech related?
TOPIC 4. 8KX Beyond Gaming
Are you using 8KX outside VR gaming? Tell us about it!
Content formats: An OpenMR post in Texts+ Supportive visuals (still images/ Gif./ videos etc.)
Something you need to KNOW!!
You must own the 8KX! Please don't try to assume it's an essay writing contest with given title!
Submit your own original content. No one likes a copy cat. You'll be thrown out the bar for plagarism.
Don't break the law, be obscene or be naughty in your review. It'll be disqualified.
By submitting your content, you agree to allow us, Pimax to republish your content on our media platforms.
The award will be announced by email, which will contain more details. So, use your noggin and provide an email address we can reach you at!
Awards:
Prize Alpha x 1
-Colorful® RTX 3090 *1
-Optical fiber cable *1
-It's 8KX!@OpenMR exclusive souvenir *1
Prize Beta x 2
-Hand-tracking module *1
-Eye-tracking module *1
-Optical fiber cable *1
-It's 8KX!@OpenMR exclusive souvenir *1
All event-entries will receive a $30 COUPON applicable to selected items from Pimax Store. (Coupon release date TBA )
Quick Links :