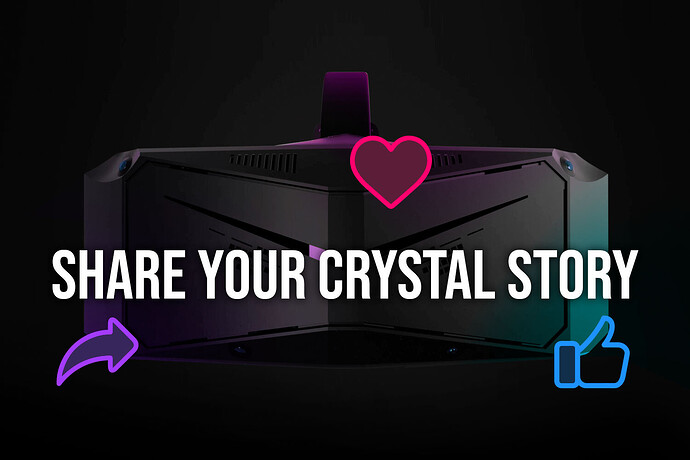 Attention all virtual reality enthusiasts, tech wizards, and adventurers of the digital realm! Brace yourselves for an exhilarating journey with the Pimax Crystal this summer!
How to Participate:
Headset Reviews:
Put your keen eye for detail and love for virtual reality to the test. Share your insights, thoughts, and opinions on the Crystal through captivating written reviews. Uncover its strengths, and highlight its unique features for the world!
Guides to the Virtual Realm:
Are you a master in the realm of virtual reality? Suggest new unknown games, or create comprehensive guides and tutorials that unlock the full potential of the Crystal. Show others how to set up, optimize and make the most out of their VR adventures with this exceptional device.
Creative Artworks & Contents:
Lights, camera, virtual action! Bring the magic of the Crystal VR Headset to life through mesmerizing videos. Captivate your audience as you share your thrilling experiences, taking them on unforgettable virtual journeys right alongside you.
Prizes Fit for VR Royalty:
Fantastic rewards await the most skilled and creative contestants. Each participant will receive coveted prizes, accessories, Pimax merchandise, and other exciting surprises. Of course, don't forget to mention the top content will take back home the Grand Prize!
Gifts for reviewers:
– Lighthouse Faceplate voucher x3
– Hand Tracker voucher x3
– Optic Fiber Cable voucher x3
– Crystal comfort strap voucher x3
– Wide FOV lens voucher x3
– $20 Accessories Discount Voucher x20
– $20 Steam Gift Card x25
Note: These pizes do not include shipping costs.
Contest Timeline :
Contest Launch: 28/07 – 31/08
Submission Deadline: 31/08 23:59 ET
Channels, Forums, Communities, Subreddits:
Post your review or story anywhere here:
https://forum.dcs.world/
https://www.reddit.com/r/virtualreality/
https://www.reddit.com/r/VRGaming/
https://www.reddit.com/r/skyrimvr/
https://forums.iracing.com/
If you want to post it on another place, please reach out to Calvin at calvin.yau@pimax.com or #kehweng on Discord.
Let us know your submitted story:
Let us know via email calvin.yau@pimax.com or submit it to #kehweng on Discord.
---
Stay tuned to our official channels for detailed guidelines, submission instructions, and updates throughout the contest.
Gather your wits, charge your VR controllers, and let the Crystal VR Headset Contest be the catalyst for your epic journey into the realms of unparalleled virtual experiences. Join us and become a legend in the ever-expanding world of virtual reality.