Hey all! Here comes a new Experimental Beta version of PE including the latest progress with Virtual Desktop feature. Let us know how it works - we are still not ready to release an official Beta installer version, so therefore we bring you this release 0.76.0.0 as a ZIP file.
@arminelec and I can't wait to see some cool screenshots of you playing desktop-games using this new Virtual Desktop environment!

0.76.0.0 Beta Experimental
What's new:
New: Virtual Desktop feature heavily improved:

Multi-monitor support up to 3 monitors
Desktop Mouse Pointer position/click/multi-click/drag working and synced with VR controllers (right-click still work in progress)
Switch to "Mouse Mode" to disable VR mouse and use Desktop mouse
Switch between all monitors in Single monitor view and multi-monitor view.
Automatic order of multi-screen setups (work in progress)
2 view modes: Switch between Embedded mode in the UI and a Full-screen mode (separated from UI)
Change the Monitor scale and distance from HMD in Full-screen mode with sliders
Virtual Desktop view added to Calibration page

New: Log Export button added to Customize menu. Automatically exports 2 logs to user Desktop.
Please Note: This version only contains updates to the Virtual Desktop feature. An upcoming official Beta version will include other improvements and bug-fixes (such as game-launch related bugs).
Download: (Right-click and Save-As)
Pimax VR Experience 0.76.0.0 Experimental Beta
Install :
This is NOT an installer. Unzip the file and copy all the files inside of PVRHome folder into your PVRHome installation (normally C:\Program Files\Pimax\PVRHome). Now start Pimax VR Experience from PiTool again, by ticking the checkbox "Start Pimax VR Home" under Settings > General.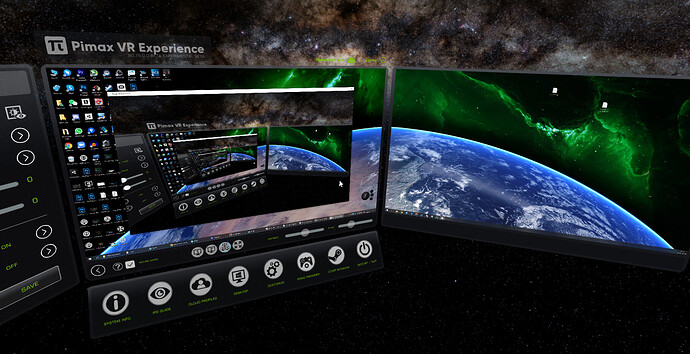 ---