日本の購入者には通知する必要があります。
この投稿の時点では:
日本では、クリスタルの購入にさらに約 $164 (¥23,190 ) ほどのお金がかかります。
*おそらくこの状況の一部は、中国と日本の為替レートの差です。
しかし、6月17日現在、中国人民元の基準価格CN¥11,999と日本円の基準価格¥245,500では、約 $50 相当の値上がりにすぎず、上記金額から3倍にはなりません。
すべてのことを考慮すると、私はPIMAXのクリスタルの日本円価格が公正であるとは思えません。
---
Buyers in Japan should be informed.
At the time of this post:
In Japan, you will be spending around an extra $164 (¥23,190 ) more money for the Crystal…
*Perhaps part of this situation is the exchange rate difference between China and Japan.
However, as of June 17, the base price in Chinese Yuan of CN¥ 11,999 vs the base price in Japanese Yen ¥245,500 only yields about a $50 equivalent increase, and NOT 3 times increase represented from the above amount.
All things considered, I do not believe PIMAX's Japan Price for the Crystal is a fair one.
---
I just received email confirmation that my pre-order is ready for full purchase of the Pimax Crystal.
The unit price in Japanese Yen is stated as:
¥279,000 (Includes Japan's 10% GST Tax* / Shipping stated as 'FREE')
*I presume it means no customs charge at the border
Total Japan JPY price: ¥268,440 (USD Equivalent = $1,893)
(Includes: GST 10% Tax, Pre-order Fee Discounted and Shipping)
Total US USD price: $1,729 (JPY Equivalent = ¥245,250)
(Includes: Sales Tax 10%**, Pre-Order Fee Discounted, Shipping ($50))
** U.S. Sales Tax originally lower than 10%, but brought to 10% for comparison's sake
Exchange Rate June 17, 2023 used: 141.84
¥268,440 MINUS ¥245,250 EQUALS = ¥23,190 (USD of $164)
---
Japan Order Page: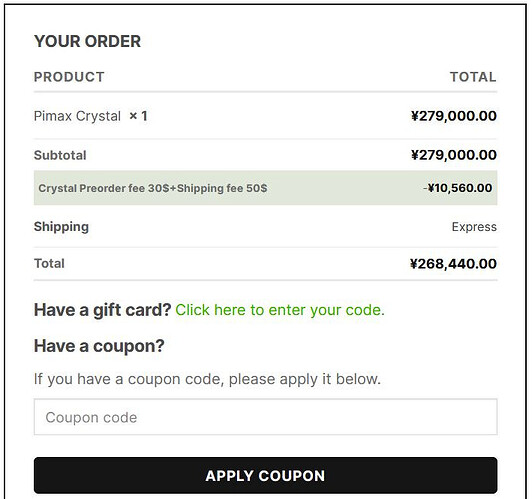 U.S. Order Page: