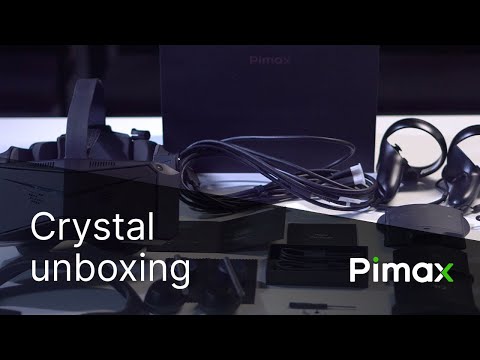 Don't know why no one from Pimax posted this video. It's good to know exactly what you gonna get from the retail box.
From the video above I saw a few interesting points already:
The quick connect DP box made it to the final product. From other posts I thought Pimax reverted to the original cable.
The front silver chevron sticker has a thin plastic cover! Wow, kinda over-protection, isn't?
It comes with 35PPD and 42PPD lenses. Hope they will add the wide-pov lens as an optional choice. Most people here want 35PPD and wide-pov combo.
The DMAS earphones are quite intriguing. The black cover is made of metal, and I can almost feel the weight of it.
The power and connection hub is something new to show this time. Personally I don't think I will even need a hub: I will just connect the USB power head to the provided power adapter directly. Why bother with a hub? Or perhaps the hub is used for charging the controllers?
The mini-hdmi hole should be covered by something. You cannot just leave the hole there accumulating dust or worse: water.
Interesting to know that there is a hidden switch to switch from PC mode to Standalone mode. I was always wondering how Crystal did this.
The upward opening vents are also not a good idea. Water and dust can easily go in and make a mess, especially when we are going to use it in mobile mode. I hope there are some kind of covering for this.
The removable facial foam seems to have a better look than the previous cheap one.
I spotted a small hole on the right lower corner of the headset. It looks like a earphone plug! (Hooray!) We do need to use earphones from time to time. No one needs to know we are playing games or watching movies when in standalone mode.
Overall I am pretty satisfy with this unbox video. The day it finally gets released is coming quick. I am quite anxious for that.