Interesting. Wonder if this will work with eye-tracking
Wonder if this could be used to make FFR more effective (more than nothing would be something)
Not sure but it looks like the game does not need to support it. Looks like it get rid of the shimmering
Here's a video of it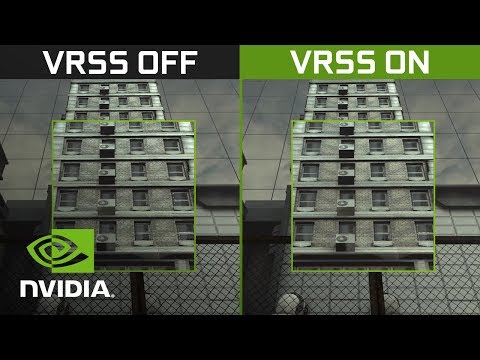 Edit: whoops looks like it only supports 24 games
I just saw a tweet about this and came here to discuss it. I wonder if it supports pimax ?
It seems it doesnt actually need dev support but its up to nvidia to pick what games get it. So Pimax mihht be able to do the same if they aren't already.
This is a driver-level feature, so it doesn't need integrated by developers. However, it will only work on a specific list of 24 games which have been tested by NVIDIA . As of writing, these are the supported titles:
Battlewake
Boneworks
Eternity WarriorsTM VR
Hot Dogs, Horseshoes and Hand Grenades
In Death
Job Simulator
Killing Floor: Incursion
L.A. Noire: The VR Case Files
Lone Echo
Mercenary 2: Silicon Rising (wow he did this sneak in here)
Pavlov VR
Raw Data
Rec Room
Rick and Morty: Virtual Rick-ality
Robo Recall
SairentoVR
Serious Sam VR: The Last Hope
Skeet: VR Target Shooting
Space Pirate Trainer
Special Force VR: Infinity War
Spiderman: Far from Home
Spiderman: Homecoming – Virtual Reality Experience
Talos Principle VR
The Soulkeeper VR
NVIDIA claims that it will continue to test more VR games and will add them to future driver releases.
The company's benchmark chart is claiming a roughly 50FPS increase over using regular supersampling of the same quality.
EDIT: seems this list was from this article
I know it's been a year but, has anyone noticed any improvement here with this?
I noticed today in the global settings there is an option to enable VRSS
which made me wonder why it's a global option at all.
Has nvidia figured out a way for the AI to work in a non game specific way?
@Heliosurge how do I bump an old topic like this back up to spark a new conversation without creating a new topic? Is simply replying like this to myself enough?
Indeed that works.