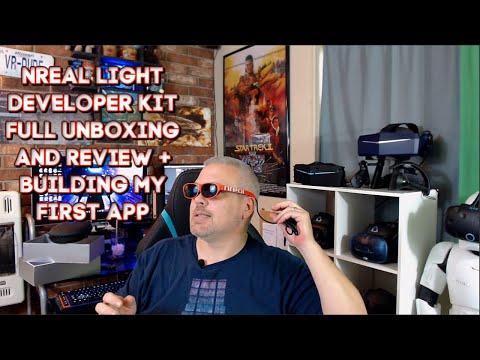 Today we are taking our first look at Augmented Reality tech here on the channel and I can't thank Nreal for sending me a dev kit and making this possible. As most of you know my channel has always been all about Virtual Reality but at the end of the day I love all immersive technologies and I am so glad to be able to see the birth of yet another industry built around the technology.
So in this video I will be unboxing and setting up the glasses as well as walking you through how to create one of the example apps from the NRSDK and of course giving you my thoughts along the way.
I do want to apologize in advance for the low quality in some sections of this video… I don't have a good camera in order to capture "Through the lens" footage with and had to resort to an old 720p webcam. It was the smallest camera I had that could also fit behind the glasses frame and still get close enough to see any action. I think the footage is still useful for people to be able to get a sense of what it is like to look through the glasses but I must say that the actual image I see is MUCH BETTER than what is shown here… In the actual glasses the images are crisp and very clear with no SDE and colors that pop very nicely… It in no way looks washed out and overexposed as it does here!
Just as it is with VR no images or descriptions can truly convey what I am seeing in the glasses so I sincerely hope that you guys can all get a look at high quality AR like this soon because once it is out there and developers start to get behind it I feel the sky is the limit for this tech! I will for sure be keeping a closer eye on Nreal and other AR tech manufacturers and will continue showing more AR content here on the channel going forward.
If you are a consumer and like what you see here and want a pair for yourself then unfortunately you will need to wait a bit longer for these to be released. A consumer product from Nreal is expected to be launched later this year and will retail for $499 and will not require anything other than the glasses and your phone which acts as both the processing unit and controller. If you are developer and want to get on board by purchasing a dev kit you can grab one from the link below:
Nreal Light Developer Kit https://developer.nreal.ai/dev-kit
Timestamps for those who don't want to watch the entire video:
Unboxing - 0:40
SDK Setup - 5:38
Building an app in Unity - 7:15
Browsing and interacting with the Compute Unit using ADB and SCRCPY - 16:15
Testing the Video Recording app we just built - 17:13
Through the lens look at the Nreal demo apps pre-installed on the Compute Unit - 19:13
Testing the Nreal glasses and using the DEX desktop app on my Samsung Galaxy s9+ - 27:09
Final thoughts - 29:47