Too bad it's on FB. Might have been interesting

I made the sacrifice and posted over there for him to come over here with his Topic.
You guys are too funny. Okay I'll Post here if I can figure out how to get the Photos uploaded. Stay Tune!

I would like to Share this with the Community, as I have achieved 46-55 smooth FPS with my 8KX in MSFS 2020 with some decent visuals.
You also can gain another 5-6 FPS if you set your monitor to Native mode. No HD or G-Sync.
What I would like is for someone, when they have time is to duplicate my settings on your system and see what you get.
I am still having a problems understanding how FFR works in OpenXR Toolkit. Need help with some of them settings.
Also I would like some input on the in-game settings in VR as I only Fly in VR and not in 2D.
My computer system is on the GeForce Experience Photo and I do run GeForce Exp.
I am using a Fiber Optic Cable and USB Power HUB.
I sure hope I help someone out as it's been a long year, but now it's worth the purchase.
Have a Super Day and stay safe.
FORGOT RUNNING WIN 11
Make sure you enter MSFS through PiMax Client.
I have entirely the same settings and FPS with the only exception that I noted being that I hit motion smoothing. The 8kx to me looks much better locked to 37.5 fps with motion smoothing vs letting it go 45-65fps without a lock. Good to see someone else finding all those tricks and loving MSFS as a result.
Thank you I'll check that out tomorrow. What about cranking up some numbers on Terrain Level Detail and Objects Level of Detail? I guess what I'm asking is can I start cranking up settings to get it down to 37.5 instead of Motion Smoothing. WIP
When you say Motion Smoothing you are talking about Smart Smoothing right?
Goodnight bedtime.
Well, I tried the Smart Smoothing and didn't like it. Too much of an FPS hit. However, I did change some sim settings which brought me down to around 38-39 FPS visuals are better and running very smooth.
Also, changed config file back to default. I'm really setting myself up for Helicopter flying for next month, so on all my tests with fixed wings I am about 2000 ft.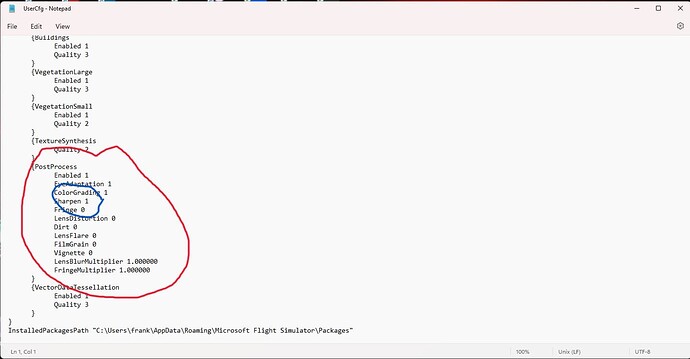 After several days playing msfs, I was having headaches pretty often. Then I tried pp=on, and now I am sure Asobo didn´t make this game right for canted hmds.
What I see now with pp=off:
many features are not rendered ca 1cm from inner side of booth eyes. It looks as vertical line where rendering for most features stops. Easiest is to set strong sharpening (200), and fly low and look trees and 3d buildings - trees completely disappear on inner side of screens, buildings dissapear partialy (some features).
Some features are rendered only if they are presented in the middle of the screen. I.e. if I take hely in New York, and then look to the bridge in front of me, and then when turn my head a little to the right, and then to the left - the bridge will be presented with full graphic in left eye when hmd direction is slightly right, and oposite on right eye. The bridge is newer presented same in booth eyes, or it is partialy shown if I look directly in hmd direction.
Far away features, sometimes clouds, sometimes mist, sometimes "haze" - they are shown different on left and right eye. If I turn head a litle left right that becomes obvious.
"Points of interest" marks are not shown if I look strait to them, but when my head is turned ca 5deg to right; that means POI are activated when they are shown in the middle of the left canted display.
That is pity, I can not play it any more with pp=off. Bye-bye 25% of pixels for nothing. Similar to Elite dangerous, there shadows and shining is totally wrong.
If I knew, I would not rebuy it again…
Man, you have something set up wrong. MSFS is looking Super with the 8KX. System Specs please, maybe we can help you.
MBO ASUS ROG STRIX H370-F GAMING
CPU i7-8700k
RAM 32gb ddr-4 (2666MHz max because of MBO, but sticks are 3000)
NVIDIA NVIDIA GeForce RTX 3090
PSU Bequiet straight power 11 850W
2x ssd
VR Pimax 8kx
---
XR:
fsr (on)
scalling 100%
sharpening 100%
manuel resolution ca 3300x4500
---
pitool:
potato mode
ss1
refresh 75Hz
compulsive smooth 1/2
---
Results: 3300x4500, compulsive 38Hz (72Hz) over cities constant 38Hz
msfs settings:
PS: my problem is not connected to XR foveated, it is same without it, I double checked it.
Found it: it is error, visible only in potato mode. In small fov is almost invisible error (at least with forrest).
Are you using sim update 11, 40th anniversary edition? They fixed the shadows and lighting, as well as the object culling (in sim update 10).
A problem still occurs on large fov where the frames occasionally glitch, but its ticketed.
Also try dx12. Your frametimes will be worse but more consistent which is good for acheiving motion smoothing if you use that.
I made my settings, finally I enjoy it. This game still has some issues (I raised several tickets, no responds yet), but at least I have very sharp and detailed picture in front of me - a strong foveated is applied with a huge supersampling in center, also shape of foveated is suitable for Pimax normal FOV. If you use it, try not to look around with eyes, but with turning your head.
I have usually more then 30FPS, and with Pimax 8kx in 90Hz mode it looks nice, and I do not have flashing from screens as in 60Hz mode. As I understand HMD shows picture 90 times in second, even if picture changes every 2-3 frames - that is really good enough for this game.
For my settings you need PimaxXR, and OpenXR Toolkit.
Pitool settings pp=off, normal fov, render quality 1, fixed foveated closed, hidden area mask on, no smart smoothing and no compulsive smooth here, native 90Hz screen mode, .
Game settings: 1.29 MB file on MEGA
OpenXR settings: 1.87 MB file on MEGA
I have nvidia 3090, cpu 8700k
This topic was automatically closed 60 days after the last reply. New replies are no longer allowed.