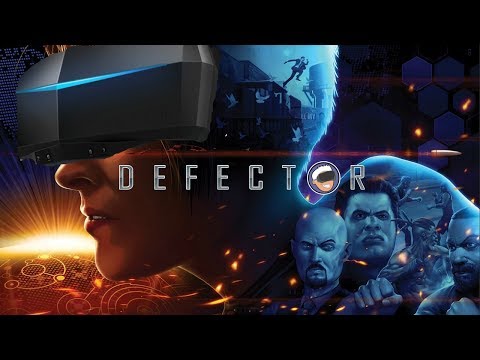 So a few weeks ago Twisted Pixel launched their latest VR title Defector for the Oculus Rift and unfortunately since my Rift is still broken I was not able to play it on launch day. I tried to get it working with my other headsets like the Samsung Odyssey+ and the Pimax 5K+ using both Pitool and Revive but unfortunately there was no luck and I decided to put this one on the back burner for a while.
Well after a short wait Pimax updated the Pitool and in the update it mentioned Oculus support optimizations so I decided to try Defector again and this time it started up and ran well! The game still seemed a bit dark and my height was slightly elevated but overall it was playable so I decided to dive in and give Defector a look and I am glad I did!
Personally I have always been a fan of the narrative FPS adventure games that use conversation arcs as a means of gameplay and Defector definitely fits the bill! Over the course of the game the player will be confronted with several of these interactive conversation paths. Some reviews I read say this is used too heavily in the game but so far I am finding it enjoyable… However I can see if the action isn't balanced well with this then it could get tedious later on in the game.
Overall the games graphics and sound are good and everything seems nicely polished. The voice acting is also well done and helps to get the players into the long conversational sequences.
So If you are like me and like these types of conversation + Action sequence kind of games then Defector is gonna be right up your alley! I look forward to spending more time in this game and If you want to as well you can grab a copy from the link below!
You must be updated to the latest Pitool release in order to play this game in the Pimax headsets so if you haven't done that yet make sure to also grab a copy of the new Pitool and install it prior to trying to play Defector!
Latest Pitool Beta - http://pisetup.pimaxvr.com/PiToolSetup_1.0.1.180.Beta.exe
Defector:
Oculus Store - Defector on Oculus Rift | Oculus
If you want to experience Wide FOV High Resolution VR for yourself head to the link below!
https://pimaxvr.com/products/5kplus?variant=19912548122683
OH and you can save an additional $70 on your order by using the code: vrgamerdude but you better act quickly, because this code is only good for 10 uses before it is gone! []-)