Hand Tracking Module Setup Guide
The hand tracking module is compatible with the Pimax Artisan, 5k+, 8K, XR, 8K+ and 8KX headsets and can be installed in just a few minutes or less. This device is designed with the latest technology and optimized for a wide field of view.
It is best if your headset is not plugged into your pc or power supplies when installing your hand tracking module.
Installation Steps:
Inside your Hand Tracking package please choose the screw that matches the hole diameter of the bottom of your Pimax headset as shown in the following illustration.
After assembling the module as shown in the next figure insert the screws into the holes indicated by red circles. Then use a screwdriver of appropriate size to tighten the screws.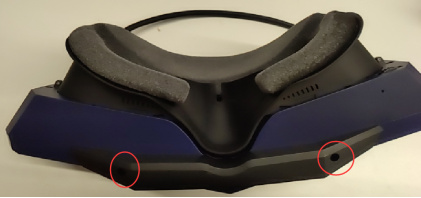 Please make sure you have installed the latest Pitool software. It is required you use at least version 263. You can download the software here: https://www.pimax.com/pages/pitool (the download is the 2nd version shown on the page).

After you have installed and secured the hand tracking hardware to your headset you can now connect your headset to the power and your PC.
The latest Pitool software will automatically detect your new Hand Tracking module and will display a link to download and install the required driver software for the hand tracking Module as shown in the following image.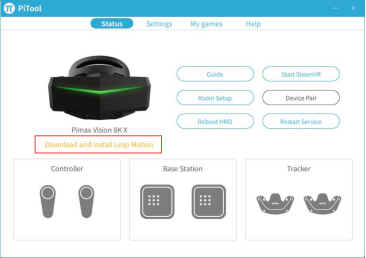 Complete the setup of the hand tracking driver once it has downloaded and completed installation you will notice that hand tracking is shown attached to the headset within Pitool.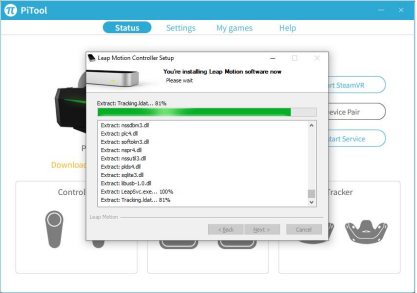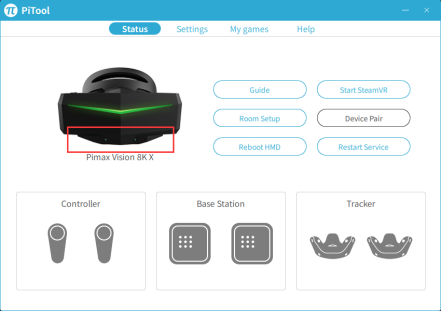 All Done! Your new hardware is installed and the software is ready for action.
Software Applications:
Now it's time to try out your new hand tracking module with some software!
Demo Apps
There are many sample apps you can download here:
https://gallery.leapmotion.com/
Some suggested demo apps are: Cat Explorer / Mirrors / Paint / Particles / Shortcuts
DCS World with hand tracking: https://www.youtube.com/watch?v=4Xdn53YpcIQ
Flyinside with hand tracking: https://www.youtube.com/watch?v=QyOfWEMG-H4&list=PLjxspSpPh2s3x_SHrljdE1Mx0K5m40XPq&index=32