From SweViver new through the lens 8k vs 5k+ video some people have come to the conclusion that the Pimax 8k does not have real RGB 4k panels. But is not the case. The reality is that we have full 4k resolution with all RGB subpixels BUT in a diamond grid.
The followoing analysis is referred to the figures numbers in the image below because as a new user I can only post one image per post.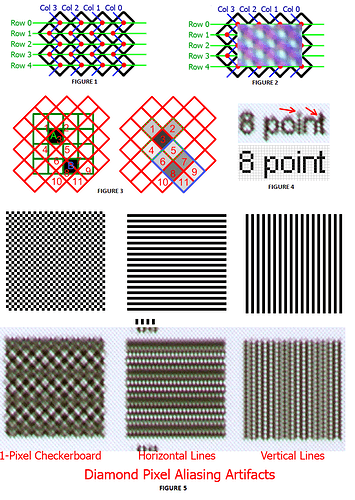 CONSIDERING:
The diamond pixel array as shown in FIGURE 1 does indeed have all the RGB colors but they are not spaced equally. Green takes more space between colums and we have red an blue sub-pixels sharing the space between rows. This asimetrical pattern led to some people to believe that 8k did not had RGB panels. But we can demostrate it by superposing a zoomed image from Sweviver video to the diamond pixel array in FIGURE 2.

Columns have more distance separation than rows. This have an adverse effect: you can't map exactly a square "normal" pixels of an image that have the same separation between columns and rows to diamond pixels. Also this led to believe to some people that 8k did not had 4k panels when measuring pixels linearly (not by area).

To demonstrate resolution: For a 4k resolution panel we should be having 3840 columns by 2160 rows in a normal square grid. In a diamond pixel array like the pimax 8k will have instead 5430 colums by 1527 rows. [that is 3840*sqrt(2) colums by 2160/sqrt(2) rows]. The same amount of RGB pixles (8.3MegaPixels) is equal to any real 4k panel, but distributed in a different grid and different quantity of rows and columns.
THERFORE:
This explain almost all the image problems we are seeing with the 8k. When we try to re-sample (not even upscale) an square source image to a diamond array at the same resolution we have to remap the grid but they have different colum and row locations!
Let's see a simplified example of the problem in FIGURE 3. If you want to draw just a couple of black pixels ("A" and "B") from the green "normal squere grid" and draw them in the red "diamond grid". You either draw it to only one of the closest diamond pixel to have a clear picture but create sever jaggies. Or you can apply a more complete resample with a grey scale to all adjacent diamond pixles and loose clarity (sounds familiar?).
Here is another example is FIGURE 4. Just exactly the problem we see with text in the Sweviver images.
CONCLUSIONS:
The only way for the diamond pixels panel to look as sharp when you try to display an image composed by square pixles is is feeding a much Higher resolution image (higher than 4k), that way, when down sample not much info is lost in the resampling of the pixels. It is the same principle as used by Super Sampling Anti-Aliasing at higher resolutions. Because it is exactly aliasing the consequence of resampling to diamond grid as shown in the FIGURE 5.
With the 8k we have an even worst scenario where the source image even at a lower 1440p resolution. And no upscaler can make up for the missed information to feed those diamond pixels.
In theory, pixels in a diamond shape can give a better "perceived" resolution (more likely a marketing spin). But that is only true if the source image resolution is also higher than the panel to account for the re-sample to different pixel positions.
I anticipate that a Software solution to the 8k lack of clarity would not be possible. The problem is inherent to its hardware characteristic because what is causing the lack or "clarity" in the 8k is the diamond pixels grid.
But please take notice that the examples here are "worst" case (letters and patterns perfectly aligned to a square grid). In practice, especially for moving pictures this should not be as bad.
SOURCE
EDIT: Got mixed up Horizontal/Vertical Resolution. As per the Image I have recalculated the "real" resolution of the 8k to 5430x1527 in point 3 above.