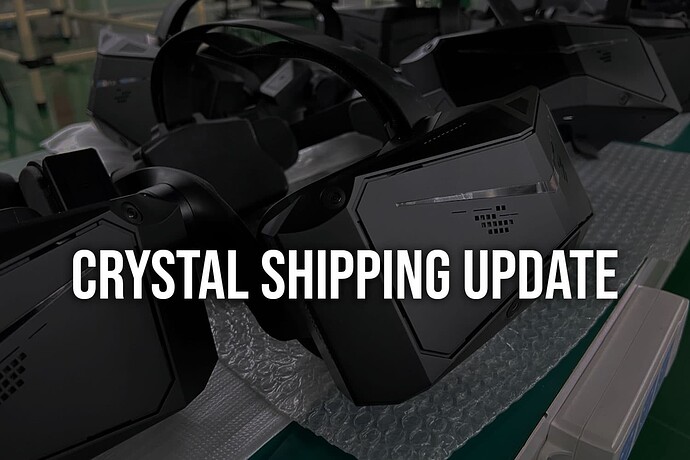 Dear valued Pimax customers,
We are happy to announce that over the last several weeks, we have shipped hundreds of units globally. Unfortunately, our customers encountered multiple issues that were not anticipated.
We hear your feedback from the community loud and clear, and we would like to clarify some key points, and announce our plans moving forward to resolve any issues our customers may be facing.
1. Improvements To The Packaging
We have received reports that some of our customers received units with a damaged head strap. An oversight in packaging design meant that pressure applied on the top of the box may damage the hook that holds the strap.
We have since investigated the problem, and have now implemented improvements such as adding a layer of foam to the top to prevent such incidents from happening again. All customers who were affected by this will have a replacement Crystal arranged as our top priority.
2. Sending Glass Lenses to replace Polycarbonate Lenses immediately
The Pimax Crystal is the world's first consumer VR headset with glass lenses. The requirements for glass lens production are very high, resulting in a complex process with limited production at the start. (The current glass lens production capacity does restrict our delivery process going forward.)
With the goal of having consumers experience the Crystal as soon as possible, we fitted polycarbonate lenses as a temporary solution — and at the same time notified the user about the glass lenses being sent later.
However, in this notification email our message wasn't clear enough. This is really our problem, we accept the user's criticism, and we're open for internal reflection and improvement.
We are currently checking every package to ensure each has the glass lenses included. Plus we will immediately ship glass lenses to anyone that received the polycarbonate lenses. We are proactively reaching out to customers to make sure they have the correct lenses. If you have received the polycarbonate lenses you can also email us at support@pimax.com to receive your replacement.
3. Fiber optic cable for all early pre-orders
In some of the first batches of shipments, because the standard copper DP data cable could not be ready in stock for the Crystal shipments, we shipped the Crystal with an optical fiber cable as a temporary solution. Although this increased the costs for Pimax, we kept in mind not to delay the shipment of these shipments any further. For the sake of fairness, we will also issue the optical fiber cable to the first batch of users (May 23th shipment).
4. Improved customer support and shipping
In order to provide faster delivery service, we use FedEx direct mail for our international customers.
We will also provide VIP service to ensure that problems from customers can be resolved quickly: aiming for 48 hours for problem resolution.
---
We would like to once again formally apologize to our customers that have encountered these problems. We are doing our best to rectify our mistakes to ensure our customers experience the best possible VR has to offer. We hope to see these issues completely resolved moving forward. We will continue to strive to push the VR envelope and deliver the best VR headsets.
We very much appreciate your patience in the early going with our newest line of VR devices. Our customers are the bedrock upon which our success and future accomplishments are built and it is our commitment to provide the best product and service we can to each and every one of our loyal customers.
If you encounter any service or product problems in the near future, please contact us at support@pimax.com. The Pimax Support Team will respond back and work to find a resolution as soon as possible.