I shoot zoom video for compare SDE in Luckey Tales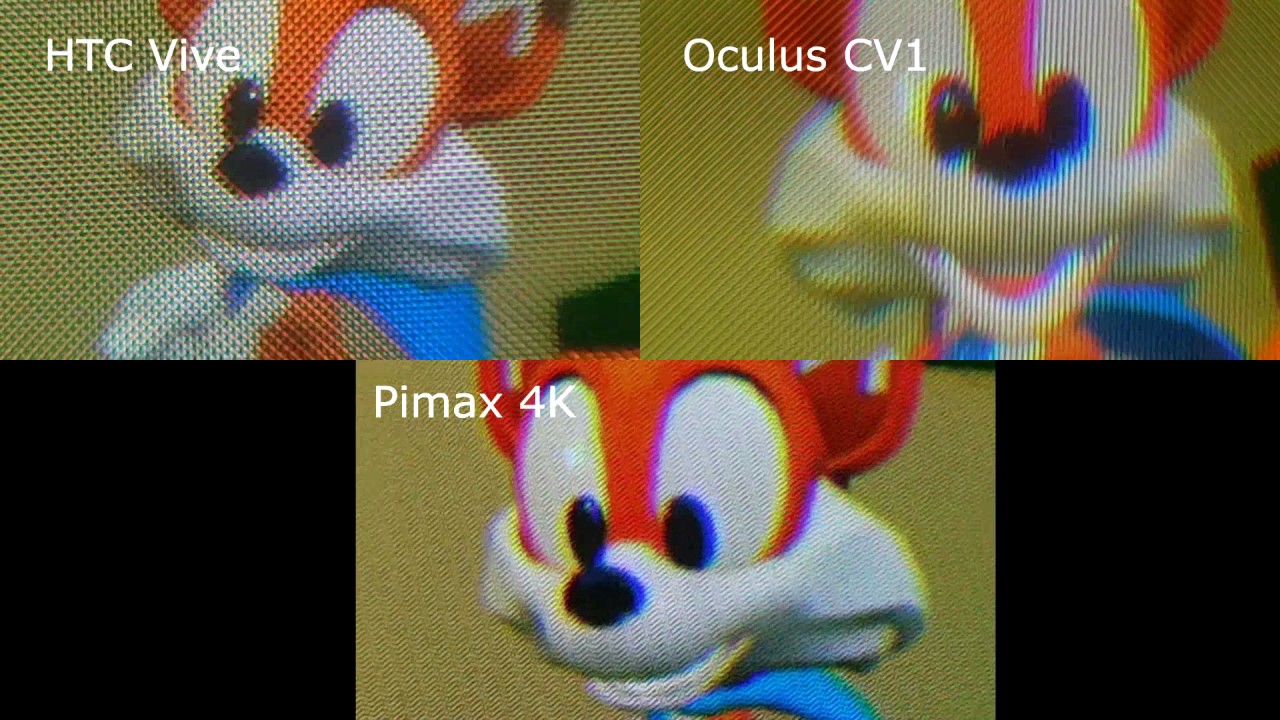 Original videos for this test (with zoomed and non zoomed image):
Pimax 4k Pimax 4K over lens (Lucky Tales test) - YouTube
Oculus Rift CV1 Oculus Rift CV1 over lens (Lucky Tales test) - YouTube
HTC Vive HTC Vive over lens (Lucky Tales test) - YouTube
And one more comparsion Pimax 4K vs Oculus CV1 in Dirt Rally:
Pimax 4k - Pimax 4K over lens (Dirt Rally test) - YouTube
Oculus Rift CV1 Oculus Rift CV1 over lens (Dirt Rally test SS 2.0) - YouTube
And one more comparsion Oculus CV1 vs HTC Vive in Google Earth VR (zoomed):
HTC Vive - HTC Vive SDE (test google earth VR) with ZOOM 8x - YouTube
Oculus CV1 - Oculus Rift CV1 SDE (google earth VR test) with ZOOM 8x - YouTube
The video is shot with big zoom. If you want see real size image (as in HMD), then for a 24-inch monitor make video full screen, and move about 2.2-2.3 meters from the monitor.
Since non-optimal factory settings of Pimax, the image is improved in Piplay 1.2.53
increased brightness (Debug Tool / High_level2: 10033036)
the option "cold colors"
in the setting of Nvidia, the Digital Vibrance parameter (80%) is increased
Pixel Per Display = 150%
The purpose of this test is to compare ONLY Screen Door Effect and does not mean the superiority of Pimax over Oculus CV1 and HTC Vive. This is not advertising Pimax, just compare SDE.
Now Pimax not have problem with brighntess and dim image. But still has major problems - ghosting, less FOV, lense edge blur, latency, gyro drift and close focus of lenses (0.5 meters vs 2…4 meters for Oculuus and Vive).
And i still recommended Oculus CV1 with Touch if you have money. HTC Vive has worse SDE, and i prefer Oculus CV1 and now sold HTC Vive.
And i have Pimax as second HMD for movies and for seated games and wait, than Pimax finally fix all disadvantages.