Hey guys!
I have totally uploaded 45 clips, covering almost 3 hours of raw video from first impressions and mixed content during the Pimax 8K &5K+ meetup in Berlin

I had sound issues with some of clips not getting any sound (because of my RodeLink wireless mic turned off) so I did not include these videos. Also, many of the camcorder interviews were also recorded with smartphone, so I did not upload these videos again as there is no need to repeat the content just for better sound/image quality.
But hey, totally 45 clips from the event should be enough for you to get the full picture

You can find all 45 clips in this (unlisted) video playlist:
Pimax 8K & 5K+ Backer Meetup Berlin 2018 - YouTube
First ever Live Stream on SweViver tonight!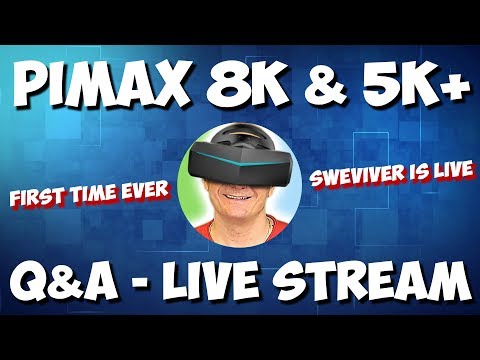 I will try to make a first ever live stream on my channel tonight starting around 7-8pm Swedish time, with some 8K & 5K meeting talk, some meeting Q&A where you can ask me questions in the chat and yeah… just to have some chat with you all

Remember: I'm still under NDA until 16th soo I wont go into personal opinions and things that are covered by NDA, but Im sure we can talk about peoples impressions, the meeting itself, difference between 5K and 8K and other interesting stuff!

This will be my very first live stream ever, so dont expect any super quality or professional stuff haha. It might be a bit awkward in the beginning, but hey we all start somewhere