Link to Unboxing
I finally got back the 5k + RMA I had sent to Marseille. Here's a short (horror) story of how the process went. I only found time for this at this point because of the limitations of real life.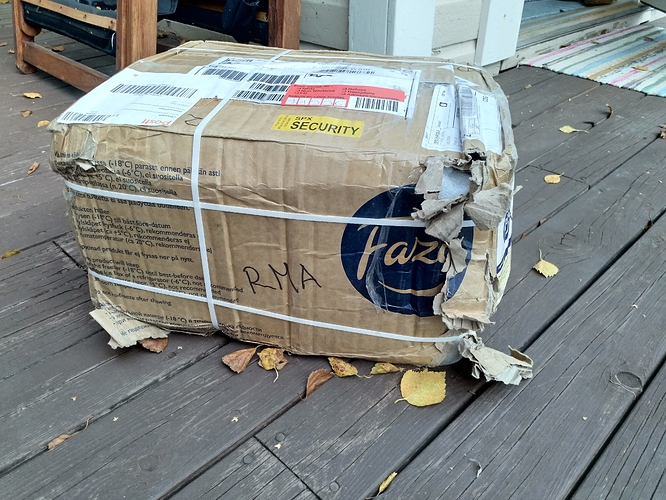 I started RMA Feb 23rd and sent packet Mar 9th. The shipment was never picked up in Marseille due to covid-19 restrictions and was sent back to me. However the restrictions expired or were reduced in early May and it would have been possible for Pimax staff to pick up the shipment, which was promised in the e-mails. After that the Parcel disappeared and no information was received about its movements.
The process has included sending back and forth emails to Pimax support without any actual help with the problem. 54 posts so far. It's amazing how much is promised and how little is done but some of you have probably experienced the same as me. Pimax paid for the shipment and was responsible for it but they were clearly not interested in the loss of the shipment. Instead I was asked to figure out the problem.
In any case the RMA came back unopened on September 14th (six months). The package had suffered during the trip. The headset had the same cracks as when shipped and a new dust particle in left lence but nothing else. 5k + still works what could not have been deduced from the condition of the package. So obviously a durable device

However, this is based on one short test.
Some mailing after i received the package:
Hi Vivi,
The RMA has been returned to me after 6 months waiting. Package was not in very good condition but 5k+ was in same condition as before: Same cracks, some dust. I had time to test goggles today and it seems to work normally. There were a dust particle in left lens though that wasn't there before, but otherwise no damage from transport.
Some images and a video clip attached.
Best regards
Responce:
Dear loska,
I'm glad to hear you received the parcel successfully. That is really a long time. Have you asked the carrier why it's so long?
You told the headset still work normally, and from your pictures, the cracks do not seem very obvious. Since it won't affect to use, how about this? I will try to fight for a $80 refund in cash/coupon and a silicone protective sleeve instead of RMA. You can use the sleeve to cover the headset. It will protect it well. You know I really worry it will happen again like last time if you return again. Do you willing accept this?
Waiting for your reply.
*Best regards, *
Vivi
Have I asked?? What a….
"You know I really worry it will happen again like last time if you return again." Really Pimax?!? This does not give a very reliable impression of your RMA process.

So should i take the refund and 80$ coupon she is fighting for me so hard or should i just send the headset back and take another round?
I almost forgot. Here is the link to the original Follow up