Dear Pimax Community,
We have exciting news for you!
We are launching some amazing new hardware and the announcement is right around the corner on May 31st at 1:00 PM PDT. Some of our most incredible innovations are revealed so we hope to see you there!
At this event we will reveal our latest technology and more importantly launch a new next generation headset that the VR community will be sure to get excited about. When we revealed the Pimax Reality 12K QLED at the Pimax Frontier event enthusiasts everywhere were blown away, well this new device will join the family as an additional Reality Series headset.
At this event we will be going through the specs, price and the mind-blowing release date so be sure to mark your calendars for May 31st, at 1PM PDT. At the same time you will learn new details about the Reality 12K QLED so this is an event you cannot miss!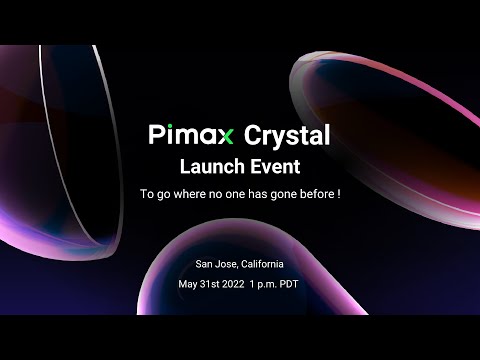 Please visit our official website for the latest event information!
Regards,
Your Pimax Team.
Pimax Website : https://pimax.com/
OpenMR Forum : https://community.openmr.ai/
Pimax Subreddit : https://www.reddit.com/r/Pimax
Pimax Facebook : www.facebook.com/pimaxvr
Pimax Discord : https://discord.gg/YYj4qU8
Pimax Twitter :https://twitter.com/pimaxofficial
PiTool : https://www.pimax.com/pages/pitool
Pimax Support : Support : Pimax Support