Just announced on SweViver's live stream: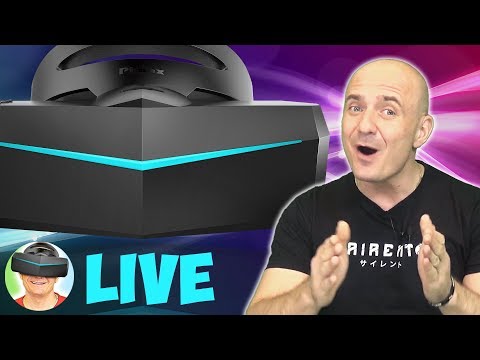 Pimax is going Open Source (soft-/hardware).
Martin/@SweViver will be their new "Community Relations Manager".
Now that's fantastic news! Hopefully he will have a high level position! Congrats @SweViver!
Congrats @SweViver! Good luck repping for Pimax!
Open Sourcing PiTools? My deepest wet dream…
Yes, and maybe even hardware too. The stream is still on (it was delayed 45 minutes)…
Mine too btw… In half a year PiTool will be rocking!
Excellent news on both announcements! I've been waiting for @SweViver to join Pimax for months and I'm glad the opportunity came his way. He is such a positive person and will do wonders for Pimax.
Definitely great news for helping to get Linux support Rolling & Mac.
As much as I love Linux, I think the focus should be getting stuff "stable"/clean first on Windows…
It's a mess as it is now and there's too much fiddling required IMHO.
@SweViver
Congrats Martin. Couldn't happen to a nicer, more genuine guy. You might remember some of us suggested Pimax should hire the 3 Amigo a while back. Glad they are paying attention. All the best with your new position.
I was thinking we need @LoneTech @Sjef and @crony for a powow. I have some novel ideas to speed up rendering and eliminate distortion, but need help implenenting it, as I dont code
What's so awesome about Martin is thar he is genuine, and he always responds when he is able. Great news @SweViver. Couldn't have happened to a nicer guy.
My first thought goes to game profiler. An easy task, but rightfully not a priority for Pimax
@mmorselli So, my new rendering idea.
You know Vorpx?
So, it has a fake SBS mode, where is uses the Z buffer from 1 camera to generate a second image for a SBS image.
My thought was, you can use the standard left and right camera views, but using the Z buffer from the left eye, and right eye, you would generate 4 virtual viewports.
This way, you can eliminate distortion without per application programing, and without eye tracking.
If you wanted to get clever, you could have the left eye render at 1 FOV (say 90) and the right eye at another FOV (say 150,) and then using Z buffer from the L and R images generate 4 viewports that were corrected for their area of the lens
The other thing is to have a monoscopic rendering option.
If it's opensource can assure you both will get great treatment. Linux is very strong with programmers.
Awesome
I look forward to seeing someone port Pimax to Linux. With Index promising Linux support, this could give us two high end VR setups on Linux.
it makes me really happy. Congratulations sweviver !!! I hope that you have good working conditions and that it brings you high
a fair return of things …
I know…
I've been working with Linux over 15 years and for the last 5 years I've been a SysAdm for a company that develops it's own software on Linux only.
Our DEVs are usually very happy to hear that Linux is our development platform…
I haven't used Windows for anything but gaming for at least 10 years.
Thank you so much Dan, Im very excited about this, and also the Open Source part of course!
Thanks man, I will ldo my best!
Haha I knew you would say that!
Yeah I had more issues than ever even getting started… It was really a messy stream, even aftre that 45 minutes of delay., sorry for that. Im still troubleshooting whats wrong with my main Windows partition…
Indeed PiTool will be so much better soon. Some big plans are in the works!
Thank you very much mate, Im happy you liked it
Im honored and proud being apart of this community, and being able to work with Pimax now can really make things even better. I will do my best
Hehe thanks man, yes of course I remember, but I honestly never thought it would happen
In the end, Im just a youtuber and a tech geek hehe…
Thanks for your kind words man. Im just being myself. It means a lot to me that you like it and take me for who I am, simply!